we're unhello now.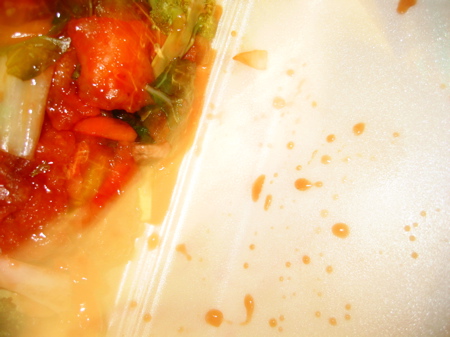 cod belly with tomato
from: Hong Kong Chinese
price: $5.50 + tax
rating: &&&.6/&&&&&
listening to while eating: Built to Spill - 'Hazy'
comments: I felt like trying something slightly different than my usuals. so deep fried cod belly it is. it's not bad. lotsa veggies, broccolli, tomato, mushrooms, bok choi. all in a sweet-sorta sauce. not bad not bad. still no beef-n-egg-on-rice-spicy-to-go, though.
eric's lunch:
frozen terriyaki rice bowl thingy
from: some store
price: $2-ish
rating: &&/&&&&&
comment: see? it's a microwave. and then the food inside was way too steamy to take a picture of. so you get what we had here last week. which is the way he wants it... well... he gets it.