alone in the park - (not starring christian slater)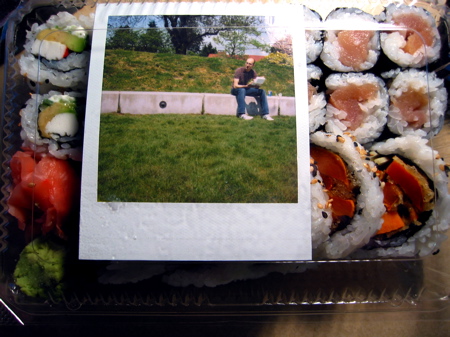 sushi special a
from: Osaka Sushi
price: $6.37
rating: &&&&\&&&&&
listening to while eating: Death Cab for Cutie - tiny vessels
comments: I like sushi. this sushi tastes pretty good. not like the best ever, but not bad, either. so... good. it's friday, though. I probably should have had beer. but r. was all like "I can't go to jericho, cuz it'd take too long" then he's all like, "let's eat the park". for this, we made him eat in the park. alone. see photos.
stir fry
from: My Home Cuisine
price: $4.50
rating: &&&&.x\&&&&&
listening to while eating: probably the Sadies. he tried to get me to listen to it, but I'm not in a coutry music mood right now.
comment: r. likes to eat in the park. I also saw g. walking towards the park. she offered me an angry cat. I declined. I also feel a little ripped off that she gets to be g. why can't I be g.? I mean, my name starts with a hard G sound, whereas hers starts with a soft g sound. which could really just be a j. I think she should be 'soft g' in case I want to take g. or, I guess I could take G. and let her have g. in any case, I'm not letting r. review his food. he can do it in the comments.